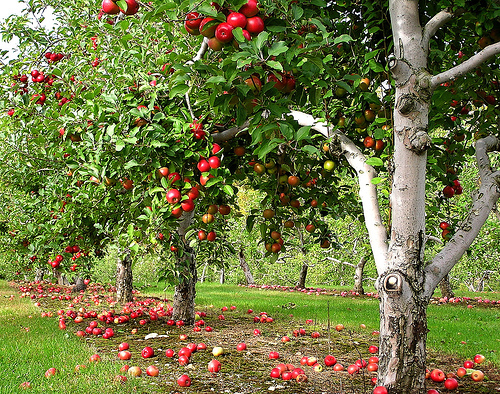 Photo credit: tipgarden.com
Fall is nearly upon us again. Officially, autumn begins September 22nd, but many states in the north are already feeling the drop in temperature. With cooler weather comes falling leaves, and the scent of wood burning on the air as folks light up their fireplaces. Pine tree freshness tickles our noses as it floats on the breeze, and the aroma of ripe apples teases our senses making us all long for warm apple cider, apple pie, apple crisps, and just plane old freshly picked apples!
Picking apples is fun for the whole family and makes for a wonderful day trip. There's nothing like getting out of the city, away from it all, and enjoying the fresh air.
But where are the best apples orchards open to the public?
Thanks to both a little personal research, and some help from
Travel Insured International
(travelers insurance), a list of excellent choices follows. Now there's simply no excuse for not hopping into the car and heading out into the countryside with the windows rolled down while singing road songs.
In the Texas Hill Country
, you'll find
Apple Valley Orchards
owned and operated by John and Susan Caballero. Their place is located at
12340 South Hwy. 16, Llano Texas, 78643. From August through December, visitors can come by Thursday - Saturday from 10:00 a.m. to 5:00 p.m., and on Sunday from noon - 5:00 p.m. Their country store contains apple butter, peach and blackberry jams, sweet jalapenos, apple cider, and even apple pies. They produce their own honey right there on the property as well. Sounds good?
If you like that, then you'll also love

Sonlight Apple Orchard

at
600 Austin Street, Mason, Texas. This year, due to a very hot summer and unwanted drought, there will only be four days of apple picking (two of which have already passed). But don't be sad! The next dates are September 14th, and the 21st. Come on by from 9:00 a.m. to 4:00 p.m. to pick Cameos (on the 14th) and Cameos and Fujis on the 21st. (2013 crop report)
Sonlight offers more than just a day out picking apples. The orchard also has a B & B on the property that lets visitors enjoy a quiet stay in the country just a hop, skip, and a jump away from antique stores, shopping, and dining in historic downtown Mason. (Bed & Breaksfast information from Sonlight Orchard's website)
The Apple Cottage
517 Austin Street
Built in 1877 as a parsonage for the Methodist Episcopal Church. It was restored in 2005 to its original wooden floors, beaded ceilings and plastered walls. The exterior of this fachwerk style house was stuccoed years ago. The main bedroom features a queen-sized Select Comfort bed(discover your sleep number). A smaller bedroom is available for a child or an accompanying adult.
Relax in the living room in recliners. There is also a kitchen and bathroom with shower. The cottage is centrally air conditioned. Non-smoking only and no pets please. A continental breakfast is offered at the Apple Cottage or a full breakfast, may be requested and served at Villa Victoria, two doors east of the Apple Cottage (see map). The Bed & Breakfast is 3/10 mile from antique stores located on the square. Special food service is available for pick up or delivery at www.SistersFoods.com.
Villa Victoria
605 Austin Street
This is a 2-story sandstone structure of Italianate style of architecture completed in 1885. It has a rock carriage house and rock water tower, and all are featured in the book Texas Homes of the 19th Century.

Breakfast is served in the Villa Victoria dining room to B&B guests with special china, glassware and silverware from Don & Sheila's parents and grandparents.
From TII comes great suggestions for those in the northeastern portion of the U.S.
Applewood Orchards
(and Winery! Oh, boy!) - Warwick, New York
This beautiful orchard is located at the Hudson River Valley and not only offers up to 8 different varieties of apples to self-pick but also a winery where homemade wines and hard apple cider are brewed. After apple picking, visitors are welcome to enjoy hay rides, pumpkin picking, puppet shows, a walk through the rose and herb garden, or a trip to the orchard store for items including old fashioned fresh pressed apple cider, pure honey, jams, and fresh apple donuts. (How it works -
pay for apples you pick only
)
Applewood is open from August 31st through late October daily from 9:00 a.m. - 5:00 p.m. Make sure to visit their country store and pick up unique gifts, apple cider, jams, jellies, pumpkins, apple donuts and so much more.
Carter Mountain Orchard
- Charlottesville, Virginia
This large orchard has been open to the public since the mid 1970's and offers dozens of apple varieties. The farm is located on a mountain top and is run by the Chiles family which draws in many history fans, because it is located adjacent to Monticello, Thomas Jefferson's former home. If you're not up to picking apples, the orchard sells pre-packed bags in its Apple Barn, and also has a country store, wine shop and tasting room, and bakery.
August 26th – November 2nd
Open Daily 9-6 (open 8A-7P on 10/5, 6, 12, 13, 19, and 20)

Thursday open 9A-9P through October 3

November 3rd – December 1st

Open Daily 9-5
CLOSED THANKSGIVING DAY
And in the pacific northwest...
Johnson Orchards
– Yakima, Washington
One of the best fall travel locations is Washington State for the fact that is produces more than half of America's apples. One of the most well-known distributors is Johnson Orchards which has 60 acres of farm land and has been in business for over a century. Not only does Johnson's have almost any apple type, the farm also offers an array of other fruits individuals can handpick including cherries, plums, apricots, and peaches. The orchard also has its own bake shop for visitors to purchase and enjoy homemade baked goods.
Check out more orchards listed at
Travel Insured International's website here
. Happy Fall, ya'll!